Product Description
CHINAMFG rollers enhance rotation on the bushing while reducing impact loads on the sprocket tooth during operation.
All components are heat treated to achieve maximum strength.
Pre-loaded during the manufacturing process to minimize initial elongation.
Hot dipped lubrication ensures 100% lubrication of all chain components to extend wear life and reduce maintenance costs.
ISO
NO.
PITCH
BUSH
WIDTH
ROLLER
DIA
PIN
PLATE
ULTIMATE
TENSILE
STRENGTH
AVG.
TENSILE
STRENGTH
WEIGHT
d
L1
L2
H
t/T
Q min
Q 0
mm
mm
mm
mm
mm
mm
mm
mm
kN
kN
Kg/meter
05B-1
8.000
3.00
5.00
2.31
3.90
4.80
7.10
0.80
4.4
5.9
0.11
06B-1
9.525
5.72
6.35
3.28
6.27
7.23
8.20
1.30
8.9
10.4
0.41
08B-1
12.700
7.75
8.51
4.45
8.50
9.90
11.80
1.60
17.8
19.4
0.69
10B-1
15.875
9.65
10.16
5.08
9.60
10.90
14.60
1.70
22.2
27.5
0.93
12B-1
19.050
11.68
12.07
5.72
11.00
12.40
16.00
1.85
28.9
32.2
1.15
16B-1
25.400
17.02
15.88
8.28
17.65
19.05
20.90
3.2/4
60.0
72.8
2.71
20B-1
31.750
25.40
19.05
10.19
20.20
23.80
26.00
3.5/4.5
95.0
106.7
3.70
24B-1
38.100
25.40
25.40
14.63
26.65
31.05
33.00
48/.6
160.0
178.0
7.10
28B-1
44.450
30.99
27.94
15.90
32.55
26.45
36.70
6/7.5
200.0
222.0
8.50
32B-1
50.800
30.99
29.21
17.81
32.80
37.20
41.90
6/.7
250.0
277.5
10.25
48B-1
76.200
45.72
48.26
29.24
19.55
58.65
63.50
9.7/11.8
400.0
621.6
25.00
72B-1
114.300
68.58
72.39
44.48
74.15
82.25
103.63
16/.17
898.5
1550.0
63.55
| | |
| --- | --- |
| Usage: | Transmission Chain, Conveyor Chain, Roller Chain |
| Material: | Alloy/Carbon Steel |
| Surface Treatment: | Polishing |
| Feature: | Heat Resistant |
| Chain Size: | 3/8"*4 1/2" |
| Structure: | Roller Chain |
Samples:

US$ 10/Meter

1 Meter(Min.Order)

|
Request Sample
Customization:

Available

|

Customized Request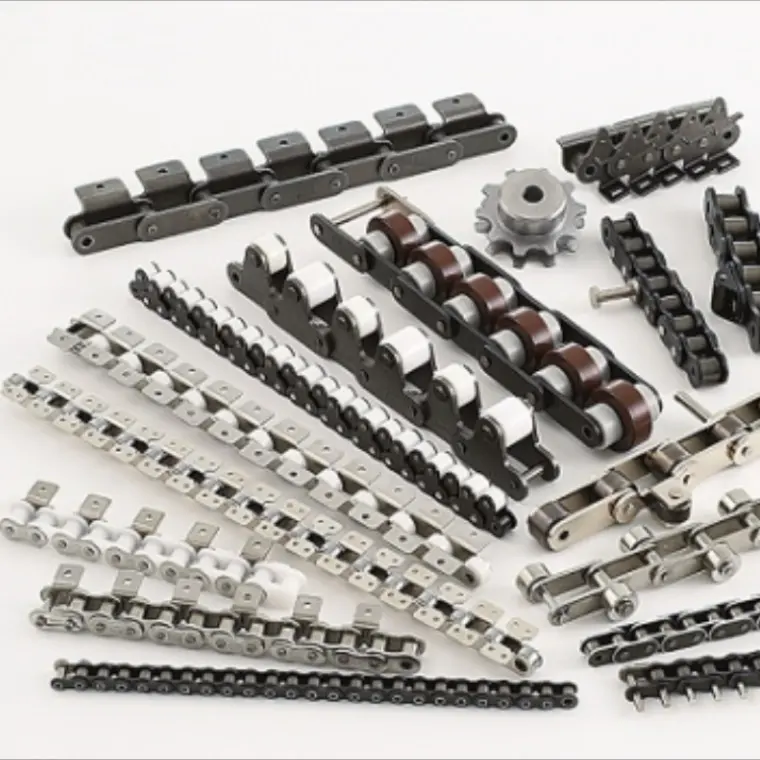 Can roller chains be used in food processing or pharmaceutical industries?
Roller chains can be used in certain food processing and pharmaceutical applications, but there are specific considerations and requirements to ensure compliance with industry standards and regulations. Here's a detailed answer to the question:
1. Food Grade Materials: In food processing and pharmaceutical industries, it is essential to use roller chains made from food-grade materials. These materials are non-toxic, corrosion-resistant, and designed to meet the hygiene and cleanliness requirements of these industries. Stainless steel chains or chains with special food-grade coatings are commonly used.
2. Lubrication: Proper lubrication is crucial in food processing and pharmaceutical applications to prevent contamination. Food-grade lubricants that are safe for consumption or lubrication-free chains are often used to meet the industry standards and regulations. It's important to ensure that the lubricants used are compatible with the specific chain material and application requirements.
3. Cleanliness and Sanitization: The equipment and chains used in food processing and pharmaceutical industries must be designed for easy cleaning and sanitization. Smooth surfaces, without crevices or pockets that can trap food particles or bacteria, are preferred. Regular cleaning and maintenance procedures should be implemented to ensure proper hygiene and prevent the risk of contamination.
4. FDA and Regulatory Compliance: Roller chains used in food processing and pharmaceutical industries must comply with the regulations set by the Food and Drug Administration (FDA) or other relevant regulatory bodies. These regulations specify the acceptable materials, lubricants, and cleanliness standards for equipment used in these industries.
5. Hazard Analysis and Critical Control Points (HACCP): The Hazard Analysis and Critical Control Points system is commonly implemented in the food processing industry to identify and control potential hazards. When using roller chains in food processing, it's important to assess the risks and implement appropriate measures to prevent contamination, such as installing guards to protect the chain from direct contact with food products.
While roller chains can be used in food processing and pharmaceutical industries, it is crucial to consult industry-specific guidelines and work with suppliers or manufacturers experienced in supplying chains for these applications. Adhering to industry standards and regulations ensures the safe and reliable use of roller chains in such sensitive environments.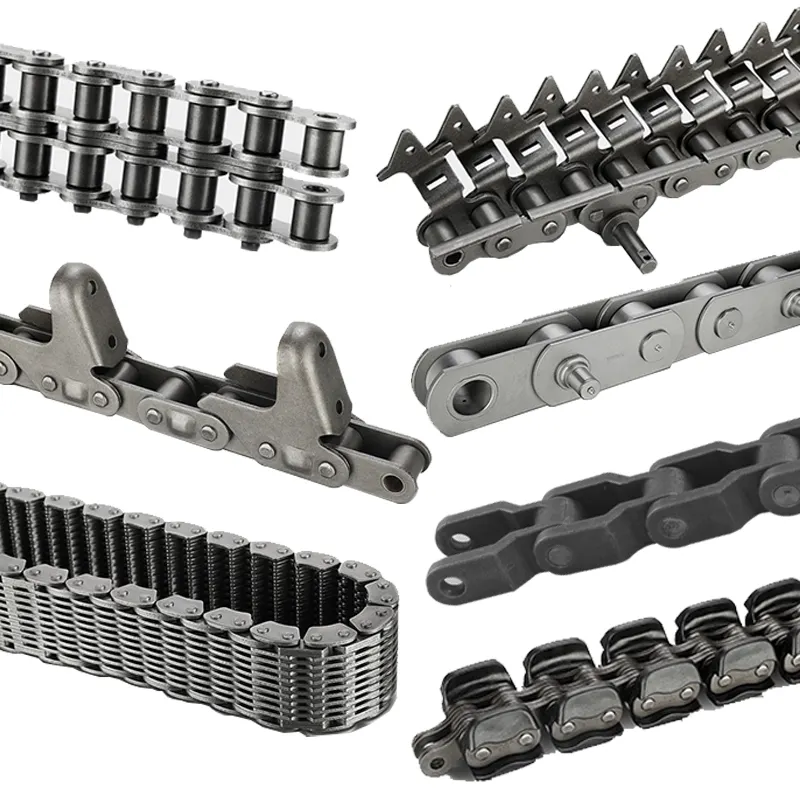 Can roller chains be used for power transmission in pumps and compressors?
Yes, roller chains can be used for power transmission in pumps and compressors. Here's a detailed answer to the question:
1. Power Transmission: Roller chains are widely used in various industries for transmitting power between rotating components. In pumps and compressors, roller chains can efficiently transfer power from the motor to the impeller or compressor wheel, enabling the pumping or compression action.
2. Versatility: Roller chains are available in different sizes, pitches, and configurations, making them suitable for various power transmission requirements. They can accommodate a wide range of power levels and speeds, allowing pumps and compressors to operate effectively in different applications and conditions.
3. Load Handling: Pumps and compressors typically involve dynamic loads due to the movement of fluids and gases. Roller chains are designed to handle these dynamic loads effectively. The multiple rollers and pins in the chain distribute the load evenly, minimizing stress concentrations and ensuring smooth power transmission.
4. Durability: Roller chains are known for their durability and resistance to wear. They are designed to withstand demanding operating conditions, including high speeds, fluctuating loads, and exposure to contaminants. Proper lubrication and maintenance further enhance their longevity and reliability in pump and compressor applications.
5. Easy Installation and Maintenance: Roller chains offer ease of installation and maintenance. They can be easily installed, adjusted, and tensioned to ensure proper alignment and operation. Routine maintenance tasks such as lubrication and inspection can help optimize chain performance and identify any potential issues.
It's important to select the appropriate roller chain based on the specific requirements of the pump or compressor, considering factors such as power transmission capacity, speed, load characteristics, and environmental conditions. Regular inspection and maintenance are crucial to ensure optimal performance and to detect any signs of wear or damage that may require replacement or repair.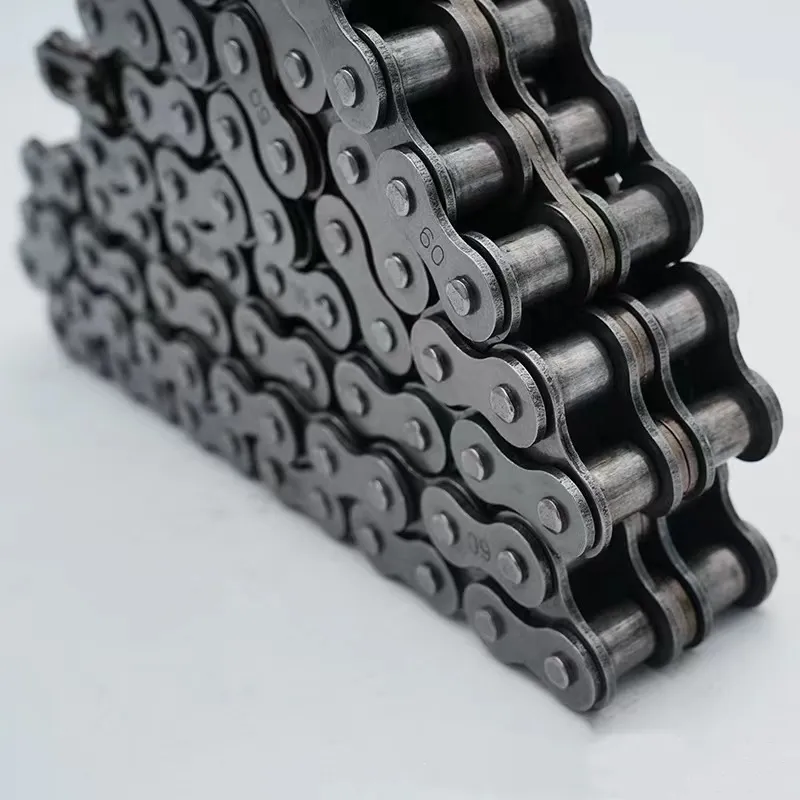 What are the best practices for maintaining roller chains?
Maintaining roller chains is crucial for their optimal performance, longevity, and reliability. Here are some best practices for maintaining roller chains:
1. Regular Lubrication: Proper lubrication is essential for reducing friction, preventing wear, and extending the life of the chain. Follow the manufacturer's recommendations for the type and frequency of lubrication. Apply lubricant evenly along the chain, ensuring it reaches the inner rollers and bushings.
2. Cleanliness: Keep the roller chain clean and free from contaminants such as dirt, debris, and excess lubricant. Regularly inspect and clean the chain to remove any build-up that can contribute to wear and performance issues.
3. Tension Adjustment: Monitor the chain tension regularly and make adjustments as needed to ensure it remains within the manufacturer's recommended range. Proper tension reduces stress on the chain and sprockets, minimizing wear and improving performance.
4. Alignment: Check the alignment of the sprockets to ensure they are properly aligned. Misaligned sprockets can cause uneven wear and premature failure of the chain. Adjust or replace the sprockets as necessary to maintain proper alignment.
5. Inspection: Regularly inspect the roller chain for signs of wear, damage, or elongation. Look for loose or damaged links, excessive wear on the sprocket teeth, or signs of fatigue. Replace any worn or damaged components promptly to prevent further damage and ensure safe operation.
6. Environmental Considerations: Consider the operating environment and take necessary precautions. In corrosive or high-temperature environments, use appropriate coatings or materials that offer resistance to corrosion and heat. In dirty or abrasive environments, install guards or shields to protect the chain from debris.
7. Training and Documentation: Provide proper training to maintenance personnel on roller chain maintenance and inspection procedures. Keep records of maintenance activities, including lubrication schedules, tension adjustments, and component replacements. This documentation helps track maintenance history and identifies patterns or potential issues.
8. Periodic Replacement: Despite regular maintenance, roller chains will eventually wear out. Establish a replacement schedule based on the chain's expected lifespan and operating conditions. Replace the chain when it exhibits excessive wear, elongation, or signs of fatigue to prevent sudden failures.
By following these best practices, you can optimize the performance, lifespan, and reliability of roller chains, reducing downtime and ensuring the smooth operation of your machinery or equipment.



editor by CX 2023-09-20